Housings for Water Filters
Standard cartridge filters require a Water Filter Housings for proper operation. On our site you can find a wide variety of housings, in different sizes and colors, all of excellent quality and adapted to the quality standards required by the FDA and NSF.
The Water Filter Housings that we have at your disposal are: Standard RO housing, Standard housing, Reinforced with pressure cap release and High flow with pressure cap release. All our Housings for Water Filters are available on our site, you can contact us for better advice and acquire the one indicated for you.
Choose a Filter Housing you need: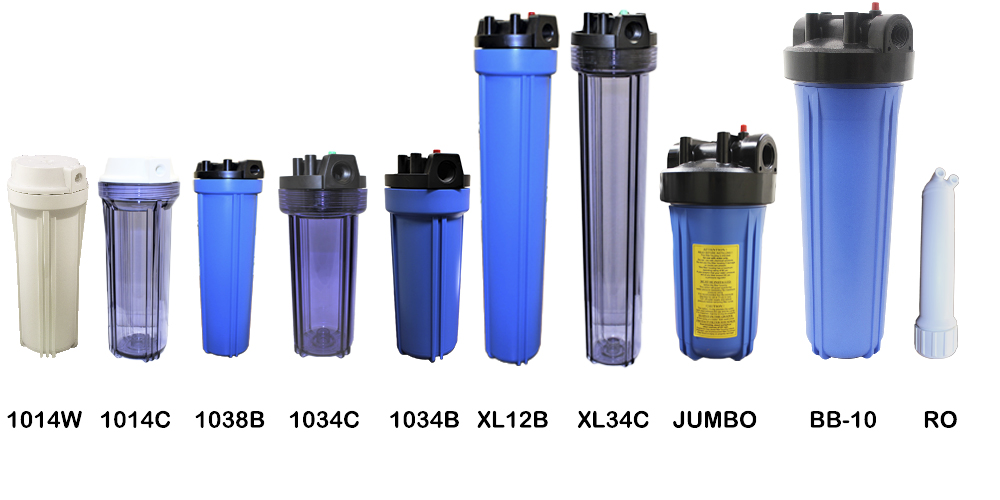 | Item | Description | Filter Size | Port size | Color |
| --- | --- | --- | --- | --- |
| RO | Standard RO housing | RO membrane | ⅛" | White |
| 1014W | Standard housing | 2.5" x 10" | ¼" | White |
| 1014C | Standard housing | 2.5" x 10" | ¼" | Clear |
| 1038B | Standard housing | 2.5" x 10" | ⅜" | Blue |
| 1012W | Standard housing | 2.5" x 10" | ½" | White |
| 1012C | Standard housing | 2.5" x 10" | ½" | Clear |
| 1034B | Reinforced with pressure cap release | 2.5" x 10" | ¾" | Blue |
| 1034C | Reinforced with pressure cap release | 2.5" x 10" | ¾" | Clear |
| XL12B | Reinforced with pressure cap release | 2.5" x 20" | ½" | Blue |
| XL34B | Reinforced with pressure cap release | 2.5" x 20" | ¾" | Blue |
| XL34C | Reinforced with pressure cap release | 2.5" x 20" | ¾" | Clear |
| JUMBO | High flow with pressure cap release | 4.5" x 10" | 1" | Blue |
| BB-10 | High flow with pressure cap release | 4.5" x 20" | 1" | Blue |
| BB-15 | High flow with pressure cap release | 4.5" x 20" | 1 ½" | Blue |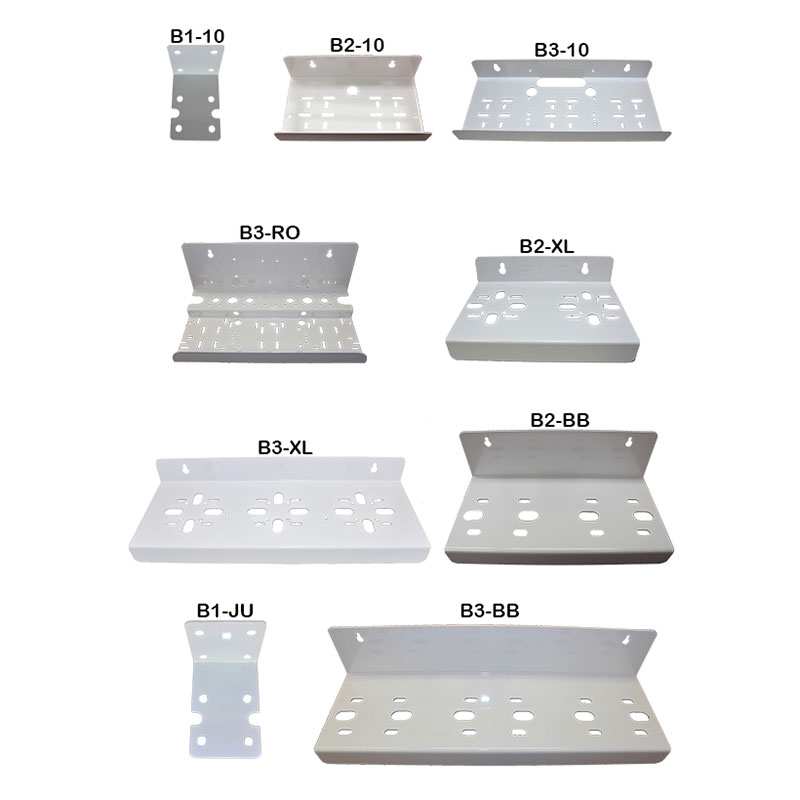 Mounting Brackets and Clips
| Item | For Housing | Type |
| --- | --- | --- |
| B1-10 | 1014W, 1014C, 1038B, 1012W, 1012C, 1034B, 1034C, XL12B, XL34B, XL34C | Single |
| B2-10 | 1014W, 1014C, 1038B, 1012W, 1012C | Double |
| B3-10 | 1014W, 1014C, 1038B, 1012W, 1012C | Triple |
| B3-RO | 1014W or 1014C and RO pump | Triple |
| B2-XL | 1034B, 1034C, XL12B, XL34B, XL34C | Double |
| B3-XL | 1034B, 1034C, XL12B, XL34B, XL34C | Triple |
| B1-JU | JUMBO, BB-10, BB-15 | Single |
| B2-BB | JUMBO, BB-10, BB-15 | Double |
| B3-BB | JUMBO, BB-10, BB-15 | Triple |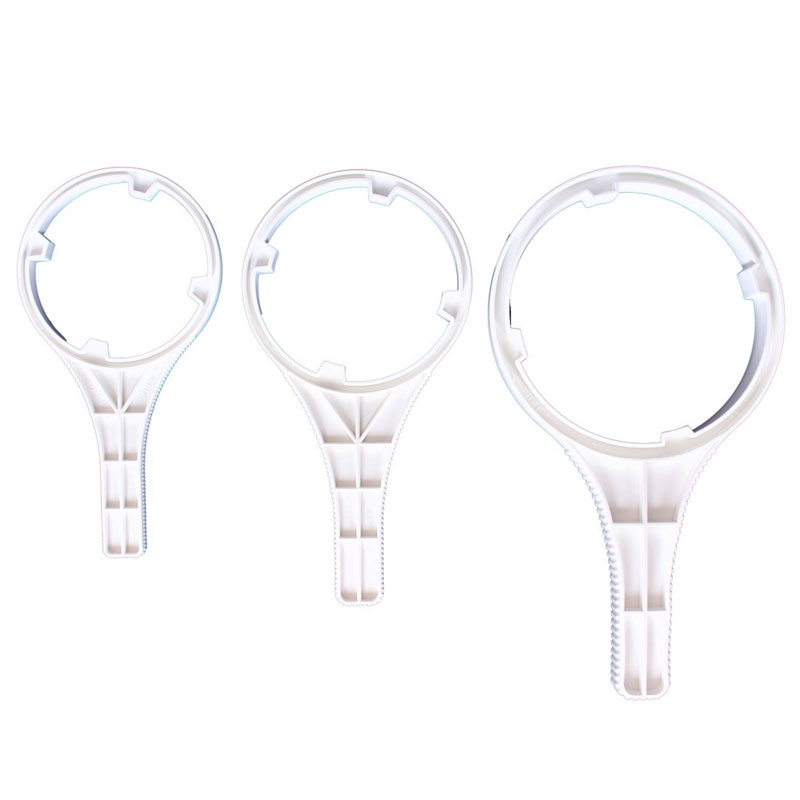 | Item | For Housing |
| --- | --- |
| W RO | RO |
| W 10 | 1014W, 1014C, 1038B, 1012W, 1012C |
| W XL | 1034B, 1034C, XL12B, XL34B, XL34C |
| W JU | JUMBO, BB-10, BB-15 |
Please your order by fax (954-322-6699), email or phone:
All orders are processed same day
Copyright © 2006 - 2019 Water Purification Supplies, All rights reserved.
Website Design: Mustillo Web Design