FULLY AUTOMATIC!!!

Booster pump
Stainless steel pressure vessels
Low energy 4″ x 40″ membranes
Control panel
Digital conductivity monitor with high TDS level alarm
1-micron prefilter
Stainless steel electrovalve for supply
Low pressure switch pump cut-off and alarm
Flow control valve
Pressure gauges
Flowmeters for permeate
(and concentrate on units 10,000gpd and up)
Stainless steel regulator valve
Auto Fast Flush cycle programmable
Ready to be controlled by a level switch
Ready for external lockout (by a filter or a softener)
Ready for remote operation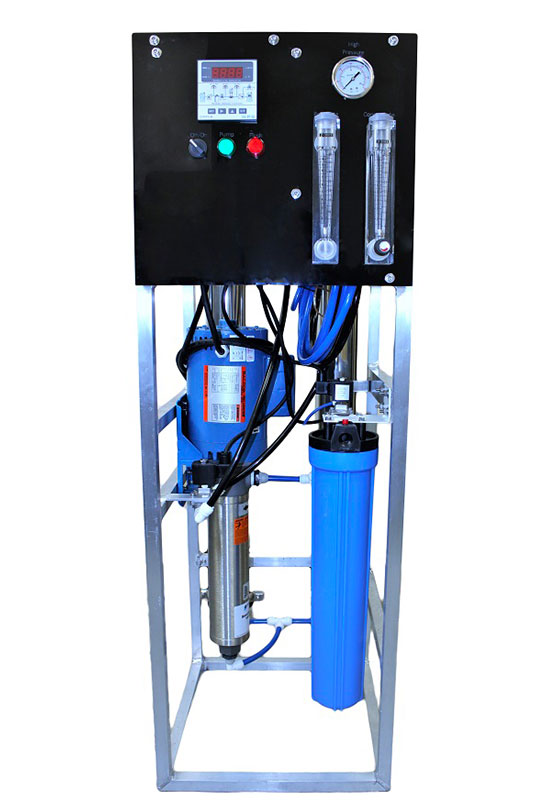 Reverse Osmosis
Reverse Osmosis is a water purification technology that uses a semi-permeable membrane to dissolve a solution of water and other components such as salts, separating them. Larger ions, molecules, and particles are removed from drinking water.
In order to achieve reverse osmosis, a pressure capable of overcoming the "osmic" pressure is
applied, which is what maintains water as a solvent element, combined with soluble particles.
Reverse Osmosis can remove many types of suspended elements in water, including bacteria, and is used both in industrial processes and for the production of drinking water.
Reverse Osmosis Membranes
As a result the solution is retained on the pressurized side of the membrane and the pure
solvent passes to the other side of the membrane. To achieve the goal, the membrane must not
allow large ions or molecules to pass through its pores, but must allow smaller components
such as water molecules to pass freely.
| Item Part | Capacity | Membranes | Pump | Power Supply options |
| --- | --- | --- | --- | --- |
| DERO-Pr1 | 2,000 GPD | 1 | Procon® | 115-230 V / 50-60 Hz |
| DERO-Pr2 | 4,000 GPD | 2 | Procon® | 115-230 V / 50-60 Hz |
| DERO-G1 | 2,000 GPD | 1 | Multistage | 220V / 60 Hz Single phase |
| DERO-G2 | 4,000 GPD | 2 | Multistage | 220V / 60 Hz Single phase |
| DERO-G3 | 6,000 GPD | 3 | Multistage | 220V / 60 Hz Single phase |
| DERO-G4 | 8,000 GPD | 4 | Multistage | 220V / 60 Hz Single phase |
| DERO-G5 | 10,000 GPD | 5 | Multistage | 220V Single phase or Triphase (380V Triphase also available) |
| DERO-G8 | 20,000 GPD | 8 | Multistage | 220V Single phase or Triphase (380V Triphase also available) |
Ask for machines 110V, any capacity
Please your order by fax (954-322-6699), email or phone:
All orders are processed same day
Copyright © 2006 - 2019 Water Purification Supplies, All rights reserved.
Website Design: Mustillo Web Design