flowmeters for water system
What is a Water System Flow Meter?
Flowmeters for Water System are devices used to measure the volume or mass of a liquid. Flow meters can be recognized by different names, such as: liquid meter, flow indicator, flow rate sensor, etc. Beyond the name by which a flow meter is recognized, the function is the same in all cases: to measure the flow.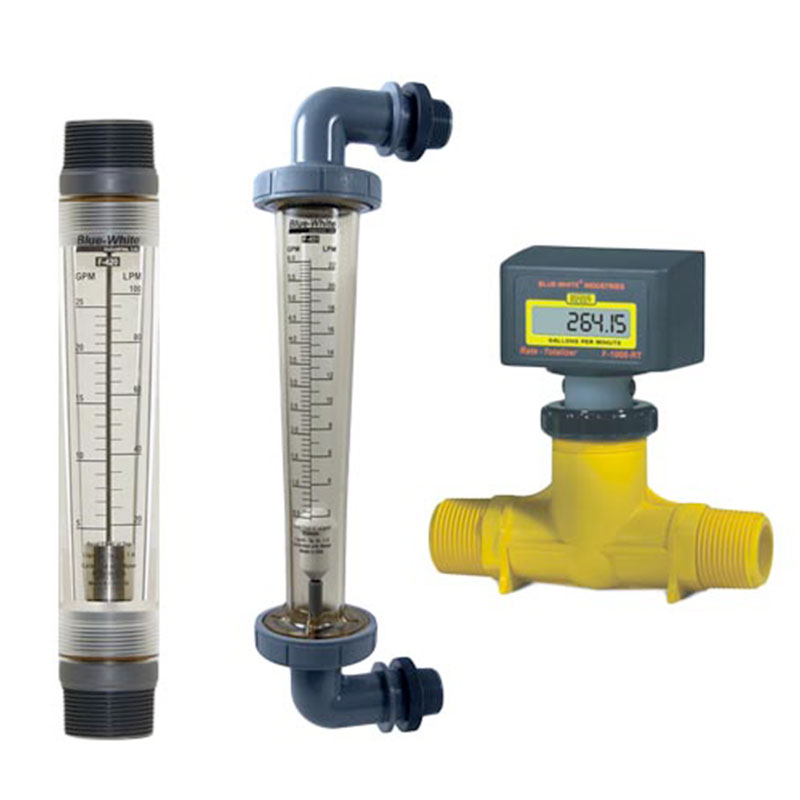 Blue-White Flowmeters
– Variable area flowmeters
– Paddlewheel flowmeters
– Digital flowmeters
– Ultrasonic flowmeters
ACRYLIC FLOWMETERS with 304 SS Float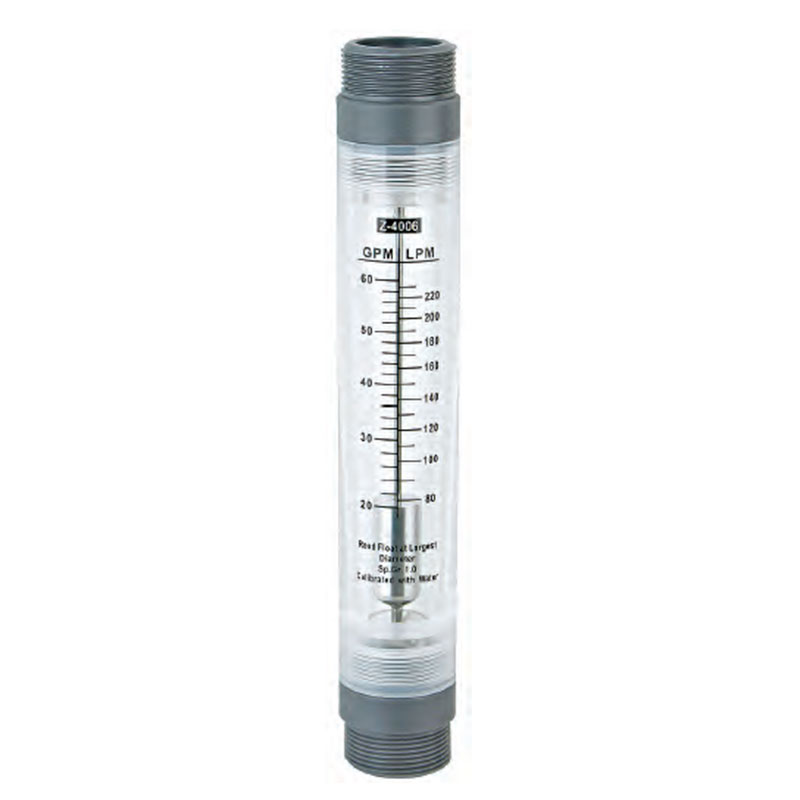 In-Line mounting flowmeters
PMMA body, 304 SS float, 316 SS guide rod, scale in GPM and LPM
| Item Part | Range | Thread |
| --- | --- | --- |
| FM-2IL | 0.2 – 2 gpm | ½" FBSP |
| FM-5IL | 0.5 – 5 gpm | ½" FBSP |
| FM-10IL | 1 – 10 gpm | ¾" FBSP |
| FM-20IL | 2 – 20 gpm | 1" FBSP |
| FM-30IL | 5 – 30 gpm | 1" FBSP |
| FM-60IL | 20 – 60 gpm | 1 ½" FBSP |
| FM-110IL | 30 – 110 gpm | 2" FBSP |
| FM-150IL | 50 – 150 gpm | 2" FBSP |
Operating conditions: Pressure ≤ 0.6 MPa, Temperature ≤ 55℃
Accuracy: 6%
Click here for drawings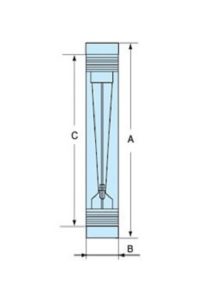 Edit

| Item Part | A (mm) | B (mm) |
| --- | --- | --- |
| FM-2IL | 210 | 32 |
| FM-5IL | 210 | 32 |
| FM-10IL | 278 | 45 |
| FM-20IL | 265 | 51 |
| FM-30IL | 265 | 51 |
| FM-60IL | 306 | 51 |
| FM-110IL | 345 | 75 |
| FM-150IL | 345 | 75 |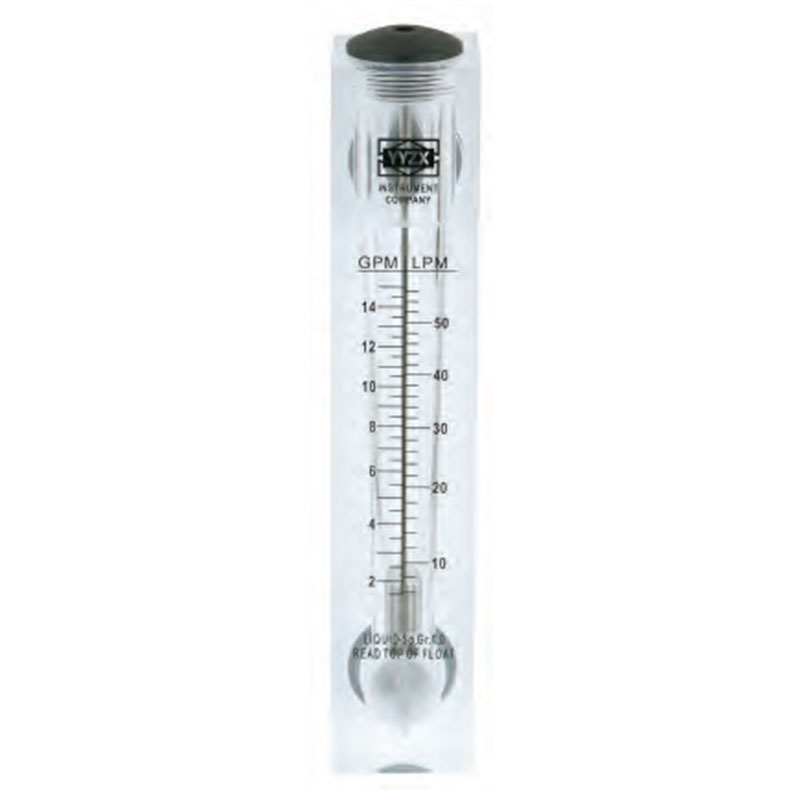 Panel-Mount flowmeters
Acceptable for outdoor installations; bulkhead nuts attach directly to inside panel
| Item Part | Range | Thread |
| --- | --- | --- |
| FM-2PM | 0.2 – 2 gpm | ½" FBSP |
| FM-5PM | 0.5 – 5 gpm | ½" FBSP |
| FM-10PM | 2 – 10 gpm | ¾" FBSP |
| FM-16PM | 2 – 16 gpm | ¾" FBSP |
| FM-24PM | 4 – 24 gpm | 1" FBSP |
| FM-35PM | 5 – 35 gpm | 1" FBSP |
| FM-60PM | 20 – 60 gpm | 1 ½" FBSP |
Operating conditions: Pressure ≤ 0.6 MPa, Temperature ≤ 55℃
Accuracy: 6%
Click here for drawings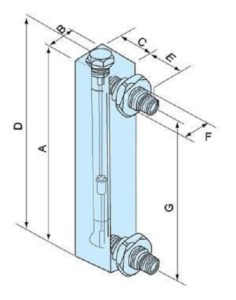 | Item Part | A (mm) | B (mm) | C (mm) | D (mm) | E (mm) | F (mm) | G (mm) |
| --- | --- | --- | --- | --- | --- | --- | --- |
| FM-2PM | 210 | 34 | 40 | 215 | 31 | 20 | 165 |
| FM-5PM | 210 | 34 | 40 | 215 | 31 | 20 | 165 |
| FM-10PM | 220 | 41 | 45 | 233 | 47 | 33 | 165 |
| FM-16PM | 220 | 41 | 45 | 233 | 47 | 33 | 165 |
| FM-24PM | 240 | 44 | 50 | 253 | 47 | 33 | 175 |
| FM-35PM | 240 | 44 | 50 | 253 | 47 | 33 | 175 |
| FM-60PM | 265 | 62 | 62 | 250 | 52 | 33 | 170 |
Panel-Mount flowmeters with regulator valve
Acceptable for outdoor installations; bulkhead nuts attach directly to inside panel
| Item Part | Range | Thread |
| --- | --- | --- |
| FM-2PM-V | 0.2 – 2 gpm | ½" FBSP |
| FM-5PM-V | 0.5 – 5 gpm | ½" FBSP |
| FM-10PM-V | 2 – 10 gpm | ¾" FBSP |
| FM-16PM-V | 2 – 16 gpm | ¾" FBSP |
Operating conditions: Pressure ≤ 0.6 MPa, Temperature ≤ 55℃
Accuracy: 6%
Click here for drawings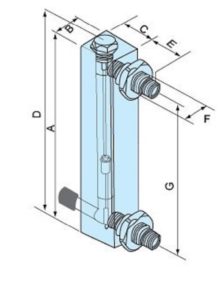 Edit

| Item Part | A (mm) | B (mm) | C (mm) | D (mm) | E (mm) | F (mm) | G (mm) |
| --- | --- | --- | --- | --- | --- | --- | --- |
| FM-2PM-V | 206 | 34 | 40 | 215 | 31 | 20 | 165 |
| FM-5PM-V | 206 | 34 | 40 | 215 | 31 | 20 | 165 |
| FM-10PM-V | 220 | 41 | 45 | 233 | 47 | 33 | 165 |
| FM-16PM-V | 220 | 41 | 45 | 233 | 47 | 33 | 165 |
Please your order by fax (954-322-6699), email or phone:
All orders are processed same day
Copyright © 2006 - 2019 Water Purification Supplies, All rights reserved.
Website Design: Mustillo Web Design